On the back end of Washington DC's Union Station, numerous passenger railways stretch to the northeast across several city blocks, by means of a lengthy, viaduct-like structure.
By and large, this viaduct separates the gentrifying Near Northeast neighborhood, consisting primarily of two- and three-story rowhomes set back from the street, and the gentrifying NoMa neighborhood ("North of Massachusetts") which is redeveloping into an array of fashionable office and apartment high-rises (probably mid-rises by most other cities' standards), along with retail on the lower level.
Perpendicular to these elevated train tracks, L Street NE is among the east-west collector roads, which, for a few hundred feet at last, turns into a dimly lit grotto thanks to the viaduct.
So why do I dwell on such a subject—in a city hundreds of miles away—on a blog called Urban Indy? Maybe you already know the answer. If you don't, this promotional banner should offer more of a clue.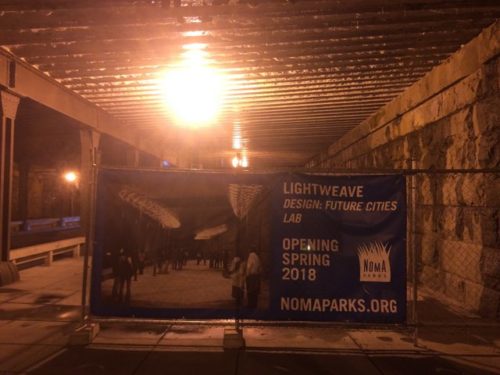 This underpass will soon christen a new art installation called Lightweave, which will help brighten and activate the space for nighttime pedestrian travel.
Does it ring a bell? If not, maybe a close-up rendering will jog the memory.
By now, for anyone who has followed Indy urban development for at least the last five years, the answer should be obvious: the installation bears more a than passing resemblance to Swarm Street, the signature project associated with the Indianapolis Cultural Trail, which runs through the Virginia Avenue parking garage underpass. Here's the southern opening of the Cultural Trail at the mouth of the underpass.
And here is a rendering of Swarm Street, courtesy of the Cultural Trail website. Take a look. By this point, anyone who has walked or even driven through this stretch of Virginia Avenue should know what I'm talking about. The Washington DC proposal Lightweave unequivocally resembles Swarm Street in Indianapolis.
But if it took this much text and all these photos to convey the analogy, it's pretty clear that Swarm Street suffers a bit of a visibility problem. The intention of Swarm Street (paraphrased from the Cultural Trail's description) was to create "a dynamic, illuminated corridor that urban dwellers and families alike would feel safe visiting and comfortable walking and riding through".   It consists of LED-lights embedded in both the pavement and the overhead framework, through which sensors would activate to create a swarm of lights as cyclists and pedestrians pas through them. The creative brains behind the Cultural Trail intended Swarm Street to serve as the signature artistic achievement: the project that took the most aesthetically challenged segment of the Trail—a shadowy, overlong underpass—and turn it into a captivating linear installation, complementing the Cultural Trail's efforts to blend aesthetics with infrastructure for non-motorized users.
By almost all metrics, the Cultural Trail has been a resounding success, attracting national and international attention for its capacity to integrate bikeable and walkable space with a downtown setting, resulting in a cycletrack that even novice urban bicyclists can feel comfortable using. Swarm Street, unfortunately, has proven the albatross of the Cultural Trail. Despite costing more than any other art installation affiliated with the Trail, it has shown little impact: it enjoyed a brief life around 2013, about the time of Cultural Trail's grand opening celebration, though it only served as a trial run. Very little press coverage on Swarm Street exists (not surprisingly), but from what I've understood in conversations with various activists, the project experienced considerable damage from water seepage before it could get fully implemented, and the only means of remedying the source of the moisture would involve cost-prohibitive improvements to the parking garage itself—improvements that served no other purpose than to facilitate the operability of the art installation.
For the last four years and some change, Swarm Street has dangled lifelessly from the ceiling of the overpass. The unacquainted may just see it as a strange piece of infrastructure, if they even notice it at all. It's a bit surprising that the Cultural Trail website still keeps the Swarm Street link activated. While it would be unfair to say it has degraded the overall quality of the Cultural Trail—which remains a great peace of urban infrastructure—Swarm Street certainly contributes next to nothing in improving the space it intended to electrify. And it remains unclear if the Central Indiana Community Foundation—the primary steward for the Cultural Trail—has been able to devise a means of repairing or even an alternative to Swarm Street. It's a huge challenge, and while I don't want to fault any individual or entity, I call attention to the current stalemate with the hope of a expediting an eventual resolution.
Time will only tell what Washington DC achieves with Lightweave, the Swarm Street equivalent. From what I can deduce (per an article from Greater Greater Washington), it will deploy a different artist than Swarm Street, and, while the scale is probably larger than Swarm Street (Lightweave is one of four installations for each of the underpasses created by the viaduct), the ambition is a bit lower. Unlike Swarm Street, none of the installations sponsored by the NoMa Parks Foundation is likely to be sensor-activated; they will operate continuously, and they will only involve hanging installations, but nothing embedded in the ground.
It's hard not to be a tad skeptical about Lightweave, but perhaps the creators studied Indy's Swarm Street and learned from its mistakes. The L Street underpass currently seems to suffer from at least some of the same moisture issues that ultimately exterminated Indy's swarm of lights.
And, although DC is a considerably more densely populated city than Indianapolis, the Virginia Avenue corridor in Indy is higher-profile, closer to downtown, and probably gets as much, if not more, foot and bicycle traffic. Conversely, DC's viaduct, and the L Street underpass, stretches across a comparatively obscure part of town, which, though gentrifying (like most of DC), splices across NoMa, a recently evolved mixed-use neighborhood on formerly neglected real estate. Odds are strong that Lightweave will elicit some backlash that it's an attempt to displace a broadly accepted dry space for DC's homeless population.
While Indianapolis certainly has its share of homeless camps at underpasses, I'm not aware that Virginia Avenue ever was a major respite; after all, it's a privately owned, securitized garage constructed atop a public street. The construction of glittery displays in obscure underpasses in Washington DC bespeak the city's mind-boggling wealth and elitism—an undercurrent that simply does not resonate in Indianapolis, to the latter city's advantage.
If Lightweave and its sister projects open to the public this spring as planned, we may witness a considerable amount of Swarm Street's unrealized potential. Or it could face some of the same structure problems, along with a host of socioeconomic concerns that never really emerged in Indy. Then again, maybe the folks behind the Indianapolis Cultural Trail have another ace up their sleeves.