Seven years ago, I posted a short article on an opportunity for a better intersection at Delaware and Fall Creek. A few years later, plans were released for a redesign, which basically brought back the original street grid of the neighborhood. Thankfully this project is now completed, and the 2 swooping curved drives have been eliminated. Here's how the streets looked in 2010. Note the lack of sidewalks and crosswalks across Fall Creek Boulevard:
And here's how it looked earlier this year, while it was still under construction:
Basically the intersection is now simplified. Instead of 3-4 choices for drivers going north on Delaware, they have 2 lanes for the popular right turn onto Fall Creek Boulevard, and 1 lane for going straight or turning left. There are now 2 southbound lanes on the bridge, which connects to one way southbound Pennsylvania Street:
This simplification has to be helpful for anyone wishing to cross this street on foot. I'd think the left lane going north would also be the better route for cyclists, as Delaware turns into a one way street going south at 28th Street. That means that anyone going north in a vehicle likely won't be going too fast anyways:
As expected, this project opened up huge swaths of land which used to be pavement. This first image shows the constructed sidewalk path that replaces the asphalt that used to head towards Talbot Street, which now leads to a future art pedestal: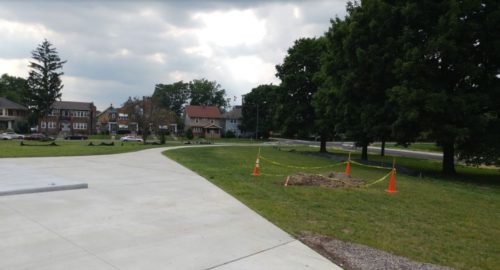 This is a project which helps give public space back to the citizens. Could some of this space been sold off and developed into housing, so that the city could collect property tax revenue? In my opinion, yes. Once something as popular as a park is established, pity the future plan for development that would sell it off. This park will be here to stay for years. However, this is certainly a marked improvement over what was here before.