On Monday, thanks to Derek Naber from the Department of Metropolitan Development, I had the opportunity to tour the Central State Hospital grounds to take a look at their ongoing redevelopment efforts.  Derek also sent me the latest pdf of the current plans, which can be viewed here.  I'll excerpt a few of the more relevant slides throughout this post for reference purposes.
There have already been a few apartment buildings built upon the grounds that have been occupied for 2 years now. This fall, the southwest corner will see the opening of a new Christel House Acadamy. Â Unfortunately, the school does not display the most urban of forms:
The crosswalk to the north of the school:
Soon to break ground is the Track and Field, located just to the north of the school, which is shown below:
Another project that is set to open soon is the Central State Mansion. Located within the former dormitory of Central State's workers, it is being converted into dorm-style apartments geared towards attracting younger residents.  It is located in the eastern portion of the Historic Central State building cluster: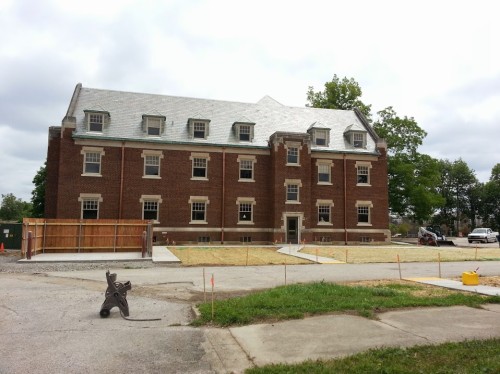 To the north of this project is a new Senior Living Center known as The Retreat, which is currently under construction.
Not surprisingly, the part that is most interesting to me is the remaining historic core, which sits in various states of disrepair. Here's the old power station:
The old Recreation Hall, which will eventually be turned into a wedding and events center by Reverie Estates.
The interior qualifies as a jaw-dropper:
Finally, a 3 acre plot on the north end of the property is being used as an urban farm.
There is so much land out here that even with all these projects, there are still many acres left untouched or unplanned. Â It remains a large challenge for the city, as well as a source for potential inspiration. Â I hope that future buildings and projects are a little more conservative with the amount of land that they require, but it is still good to see the amount of activity going on there.
Finally, on a personal note, I'll be away on vacation starting tomorrow evening, and will be away from the blog until August 11th. Â It will remain monitored in capable hands while I'm away, though.