Indianapolis residents have been treated to a good deal of press releases in the past two days about the new Velocity action plan for downtown. The ambitious plan is full of great ideas that we at Urban Indy are excited about. Â  Of course, more could be done for the urban core surrounding downtown, but that is another story for another time.
Another new addition that seems to be generating a good deal of buzz is the new Eskanazi Hospital on West 10th Street. Â The structure is quite attractive and features innovative features such as a sky farm. Â Less attention has been paid to the built environment surrounding it, so I found it an unpleasant surprise when I was looking through the new aerial photography: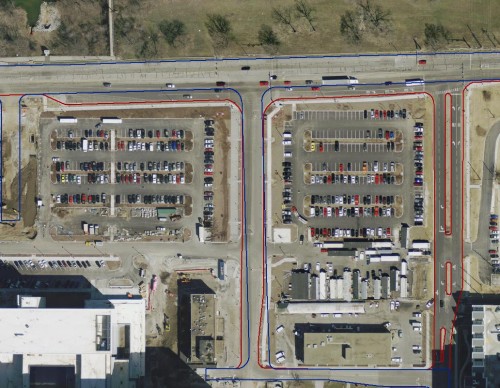 That's right, the city has taken a road that was already plenty wide in West 10th Street and made it even wider. Â I'm not denying that the new hospital will invite more traffic onto the arterial, but it seems that the street design is straight out of the old playbook, and in direct contrast to many of Velocity's goals for downtown. Â Is DPW on board with this ambitious plan? Â What will it take to get all parties in line with a livable infrastructure initiative, and to stop shooting ourselves in the foot with over-built roads?