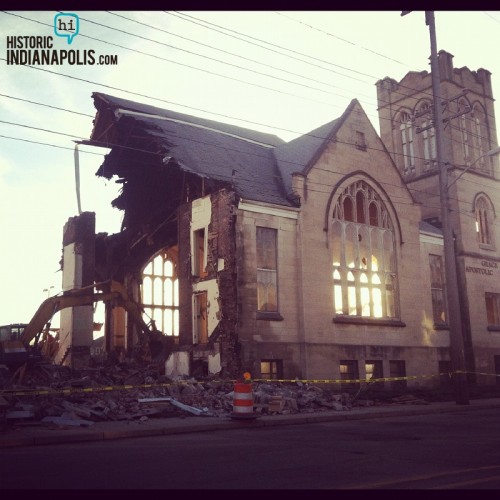 A tragedy of epic civic proportions is occurring at the corner of 22nd and College Ave on the near north side of Indianapolis. The old portion of the Grace Apostolic Church was recently mowed down thanks to a tall crane with a wrecking ball attached to it.
I made some brief inquiries into what the purpose of the demolition was. I checked in with Chelsea Humble of King Park CDC and she that it was being destroyed to make way for a new parking lot. It pained me to see this building coming down for a couple of reasons. First, it was a beautiful structure. To watch it meet the wrecking ball to make way for a parking lot seems a tragically undignified end to it's life. Second, for the cost of the demolition and parking lot, I am QUITE sure that many people could have been helped out whether that was feeding the poor, reaching out to the hundreds of underfunded community organizations, etc. It seems a short return on investment to say that preserving the place of worship through automobile parking was the best use of funds for this church. However, these reasons are subjective based upon each person's perspective of religion and faith.
I drove past the site too many times during the demolition without taking photos but as luck would have it, some existed and I contacted Tiffany Benedict Berkson of Historic Indianapolis who graciously agreed to share hers. She captured the destruction perfectly.
Special thanks to Tiffany Benedict Berkson of Historic Indianapolis for the images and additional commentary on the topic. Check out her post on the property here.