This week, our feature photo is at the State Capitol, from Joe Smoker: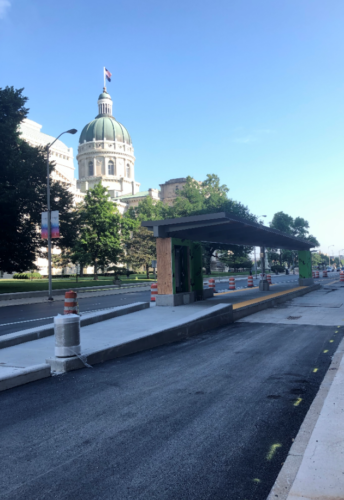 We also have a few photos from several weeks ago from Chris Corr:
Here's the IndyGo weekly e-mail:
All Corridors
*Â PLEASE BE AWARE THAT "NO PARKING" SIGNS ARE ENFORCEABLE.
New traffic signals have been installed at multiple locations along the corridor and will become operational over the next few weeks.
 
Capitol Avenue
Pavement markings are being installed on Capitol Avenue between 18th and Washington Streets. Work will occur mostly during the evening and overnight hours (7 PM – 7 AM). Please be alert for on-street parking and lane restrictions.
Illinois Street
Pavement markings for a new two-way bike lane on Illinois Street will be installed between Washington and 18th Street. Work will occur mostly during the evening and overnight hours. Please be alert for lane restrictions and temporary traffic control measures.
College Avenue
Construction activities on College Avenue will require temporary on-street parking and traffic restrictions in work areas this week. Drivers should expect to encounter temporary traffic controls and/or lane closures. At times, drivers may be diverted off College Avenue. Activities will include:

Pavement resurfacing is continuing south of Kessler Avenue to 38th Street through this week.
Pavement markings will be placed on the newly resurfaced portions of College Avenue starting on or after July 8. Some of this work will occur during evening and overnight hours.
Final concrete surfaces will be placed at the Kessler Avenue and 42nd Street station platforms this week, requiring short term closures on College Avenue.
Meridian Street
Pavement resurfacing will begin on Meridian Street on or after July 10. Temporary on-street parking and traffic restrictions will be required in work areas over the next several weeks. Drivers should expect to encounter temporary traffic controls and/or lane closures. At times, drivers may be diverted off Meridian Street. 
Final concrete surfaces will be placed at the Meridian Street station platforms over the next two weeks, requiring short term lane closures on Meridian Street. Work is scheduled at the 30th Street and Fall Creek Parkway stations this week
More information and a list of FAQ's about the acceleration is posted on the IndyGo website:  https://www.indygored.com/acceleration/