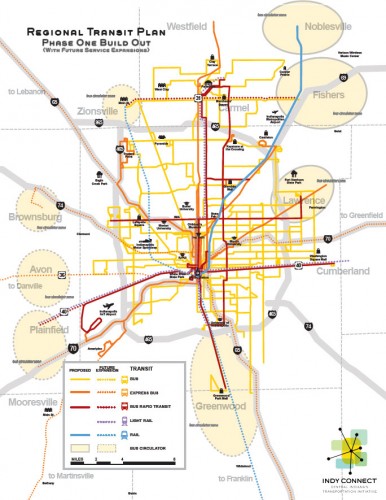 Today, the final Indyconnect plan was released for public review. The plan released today, is the plan that officials will be taking with them when they go to the statehouse in the 2012 short session. Included in this plan are pieces of the former two releases but with some notable changes.
Chief among those changes, are the finalized proposal to include only Marion and Hamilton Counties in the initial phase. The NE Corridor, already under study, is still included as are multiple BRT corridors traversing the urban core from regional destinations such as Carmel, Greenwood, Lawrence & the Indianapolis International Airport . Urban Indy reported in October that Indianapolis had received $2 million to begin the Alternatives Analysis on two of these corridors. The questions we asked then seem to have been answered. A peak at the map indicates BRT all the way up College Ave to Carmel via the US31 employment centers.
The proposal outlines milestones along the way to what would be a 10 year build out of the initial phase. The proposal calls for doubling the amount of bus service in Marion County and adding local bus service in Hamilton with full implementation by 2020. Express bus between both counties by 2014 would conceivably replace the existing Indy Commuter Express. BRT along 4 corridors would be operating fully by 2020 with some service starting in 2017. The NE Corridor rail line would see full build out by 2021 with significant rehabilitation of Union Station included in the rail line's budget. The South Corridor commuter line has been changed to a "future project" and is assumed to be a planned upon corridor with Johnson County's eventual opting into the system.
The proposal wraps up by stating that as the build out occurs, the newly created regional transit authority would be examining transit service into other counties as well as studying the feasibility of converting one or more of the BRT corridors to light rail; a look at the map indicates two potential light rail lines.
Funding capital and operating costs would be a recommended 0.3% income tax levy that would require a voter referendum to implement for each county. The plan states that each county would fund an amount proportionate to the benefit its residents would see. How this would be computed is as yet, unknown. The overall capital costs of the system are estimated at $1.3 billion and operating costs are estimated at $136 million a year; a needed boost compared to today's approximately $55 million in annual operating expenses.
An RTA (Regional Transit Authority) would be created with the power to design, finance, build, operate and maintain the transit system. It would have an appointed board whose members would be experienced business and community leaders. The RTA should also be capable of leveraging private funding where applicable.
In conclusion there are a few thing to bare in mind. This is a plan that state lawmakers will pour over and consider when they decide to allow a referendum for November 2012. Republican lawmakers have been warm to talking about the plan which is a change from years passed. Today's local show of support from elected officials is likely to bolster sentiments at the statehouse. If passed, the proposal would be adopted into the long range fiscally constrained plan at which point, REAL movement on the plan would occur. Until then, it is simply lines and words on paper that our lawmakers will consider allowing citizens to vote on.
—
We at Urban Indy have considered the plan and have a few thoughts & concerns.  We believe that this plan is a good compromise for getting a transit system off the ground. While it does not include electric light rail or streetcars it significantly improves bus service, creates real rapid transit corridors and will create an environment where citizens can depend on the transit system without having to pull out a schedule every time that they want to ride somewhere. We have wrote frequently about the value in a Broad Ripple to Downtown light rail line and it pleases us that there is at least a future light rail route that follows that closely in this proposal. We are concerned that there is not a robust land-use plan attached with this proposal but understand that land use is a municipal issue and will have to be negotiated along the way. We also have some concerns about BRT as a "place making" tool but if the right design is implemented, perhaps BRT can succeed here. We have been behind a push to authorize local officials to plan and fund a transit plan and authored a resolution in April supporting that. We are still behind that effort with this plan.
 Supporting Documents: (.pdf)