Regional stakeholders continue to push for action at the state level allowing local power to create funding options for transit. I know this because I am a part of the transit coalition debating this issue. However, a recent conversation brought to light an interesting notion.
What could the city of Indianapolis do on its own to improve and expand transit, devoid of the power to participate in a regional transit system?
First, defining exactly what a "regional" system is comprised of is required. A regional system is one which has the authority to operate and govern across multiple counties. Currently devoid of body with the power to operate and construct a transit system, levy taxes, pay suppliers, etc.  regional transit is a non-starter.  While Indianpolis has seen it's share of regional operations in the form of IndyGo's operating of the commuter routes from Carmel, Fishers and Greenwood to downtown, they come with a measure of negotiation between local communities. Governance and a sufficient level of service to consider the system a regional one however, are not possible with the current conditions.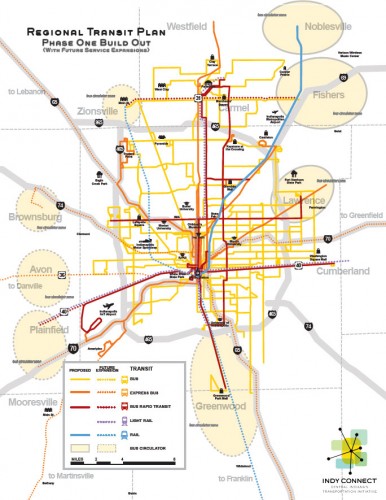 For Indianapolis, that means IndyGo is the model for local transit; they have the authority to operate in the city and county of Indianapolis but no further without negotiating on per route basis with other towns and cities. However, cities and towns themselves have the power to spend capital on many different projects given enough political muscle to push it through. All one needs to do is look at the large number of taxpayer backed projects such as CityWay, the pending Block 400 parking garage, and any number of other multimillion dollar projects. Technically, if city officials wanted it bad enough, they COULD fund the construction of a Bus Rapid Transit (BRT) or Light Rail Transit (LRT) type of infrastructure project. It could also defer money away from other city funded projects to fund the operations of these dreamed of projects.
However, and as we painfully experience every year, the city kicks the can on this issue. This is understandable in recent years with the momentum being generated for a regional system advocated by Indy Connect and the city looking to the future. However, at some point if things do not change at the state level allowing a regional transit authority, the city needs to take up the banner on improving local transit.
IndyGo is annually underfunded and often turning it's pockets out to find spare change to keep the existing barebones system running. How long they can keep this up without major service cuts is unknown. Kevin reviewed the 2010 Comprehensive Operational Analysis (COA) some time ago which examined how the system could be changed to function more efficiently with the current routes, but it would be painful for lots of people who depend on the bus system to get around. IndyGo spends a lot of it's federally supplied capital funding on upkeep of it's aging fleet of buses which keeps it from offering more frequent service on existing routes as well as adding new routes. The state of the current bus fleet is so bad, that IndyGo is turning to purchasing used buses from other cities because they are in a better state of repair than many of our current buses.
I suppose what it boils down to in the end, is what would local politicians find worth putting on the fund chopping block to shift towards providing long term funding stability for IndyGo as well as expansion of the current system?